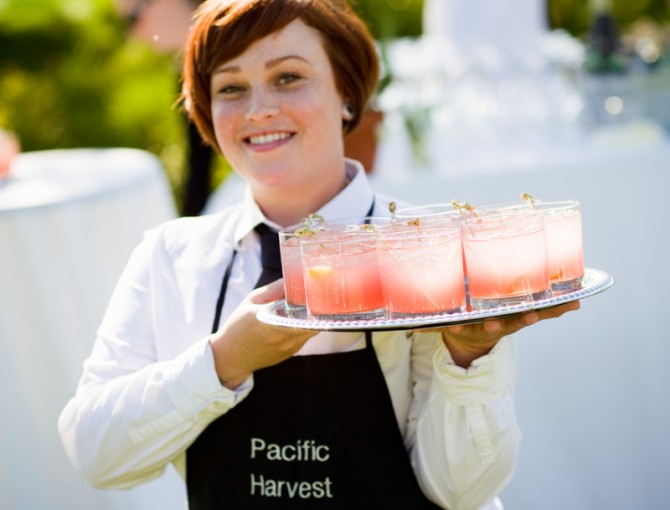 When we last posted photos from Leah & Neal's fabulous wedding at Santa Margarita Ranch, we didn't have access to all the photos that showcased the delicious food created that evening.
That's because as caterers, we're busy making sure the food is fresh, tasty and beautifully presented so we rarely make time for photos. Thank goodness for Cameron Ingalls, an amazing San Luis Obispo wedding photographer.
Leah, a food and wine writer, had a vision of local products from nearby farms to create an elegant dinner menu in the barn at Santa Margarita Ranch.
So, that's what we made happen.
We visited our favorite farmers market at the Templeton Park and found awesome fava beans, purple baby artichokes, mixed greens, blackberries, and so on.
The fava beans were pureed, mixed with herbs, garlic, & truffle oil and then spread on crostinis made from Hush Harbor artisan breads.
For a more exotic appetizer, we paired duck confit with grilled sundried tomato polenta cakes, blackberries and herbed goat cheese.
.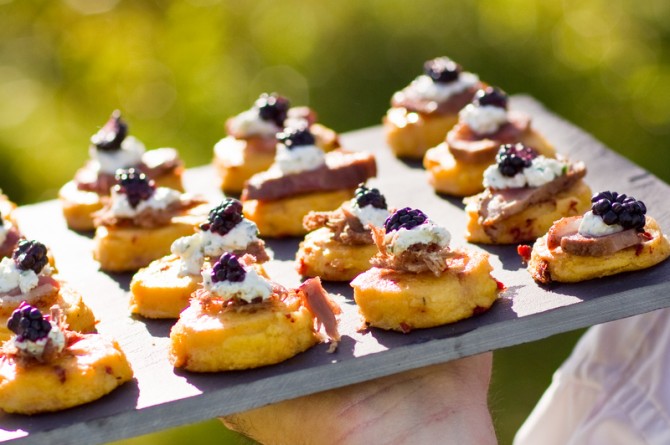 And to stay true to the classic hor dourves, we did a spread of charcuterie that included local artisan cheeses, sliced cured meats, duck sausage, and pates.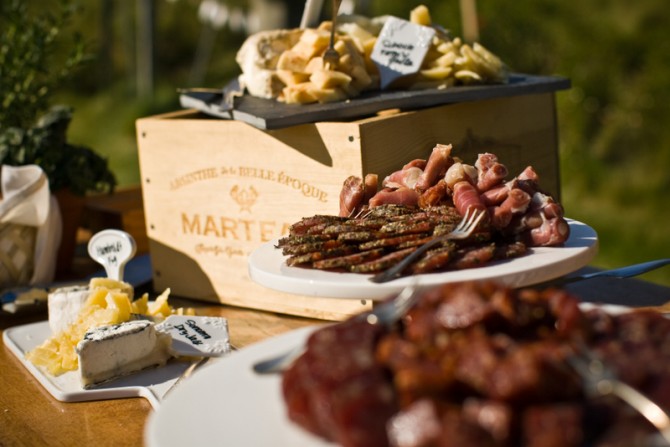 Guests also enjoyed local wines, beers handcrafted by the groom and a signature tray-passed cocktail of fresh-squeezed grapefruit juice, gin, simple syrup & candied grapefruit (made by the bride herself!)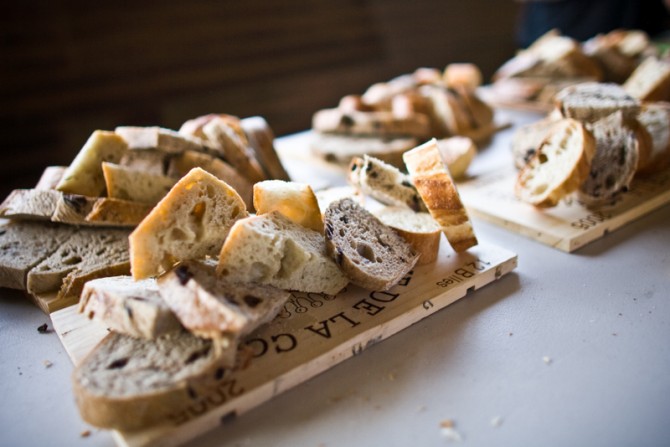 Dinner was served "family-style" to keep with the couple's vision of a large elegant dinner party. The menu was:
First course of two salads:
Roasted Fennel and Citrus Salad with a Tangerine Chervil Dressing
& Baby Arugula with Toasted Almonds, Goat Cheese & Roasted Red Pepper Vinaigrette
Second Course-Pasta:
Housemade Traditional Tortellini En Brodo
Third Course-Entrees:
Rack of Lamb with Lavender Salt, with Roasted New Potatoes & Braised Artichoke & Halibut en Papillote, Meyer Lemon, Fennel, Kalamata Compound Butter with Purple Baby Carrots & Seasonal Vegetables


We love our brides & grooms that make our job so fun. Thanks Leah & Neal for loving food as much as we do! To see the bride's food and wine blog, please click here and for more details on the wedding, see the blog below!