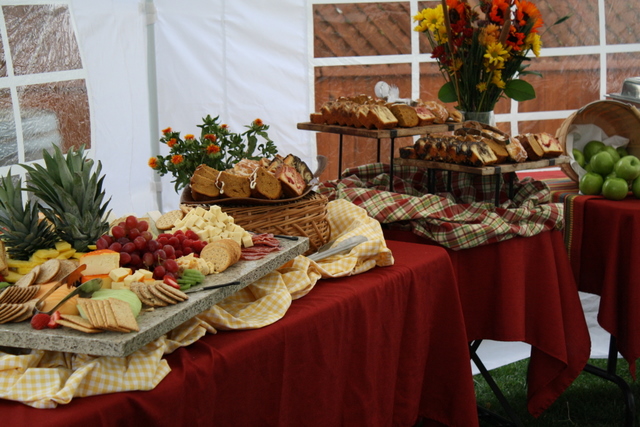 We are delighted each fall that Pomar Junction Vineyard & Winery has us out to cater their Annual Harvest Brunch.
The Templeton winery is family-owned, has charming grounds & gardens, & has awesome wine! Great wine is an ideal compliment to our food which is one of the many reasons we love working there.
And it's one of the reasons we love being in the culinary field, as we are minutes from artisan farms & vineyards.
This year, the lucky guests were treated to a warm tropical storm (thus the white tents) but the occasional thunder & lightening really made it an amazing experience to remember.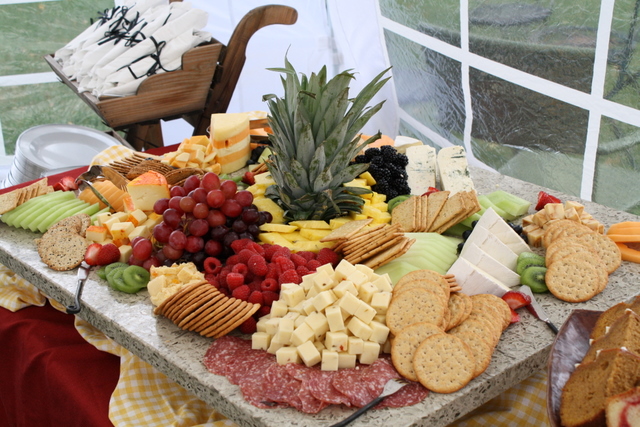 Here's most of the delicious menu. Simple, rustic & all tasty…
A Selection of Pastries, Breakfast Loaves and Muffins
Seasonal Fresh Fruit Display and Cheese Board
Omelet Station with Assorted Farmers Market Vegetables
Yukon Potato Herb Hash
Herb-Encrusted Carved Prime Rib with Creamed Horseradish & Au Jus
Apple-wood Smoked Bacon & Maple Sausage Links
Apple & Golden Raisin Pan Purdue with Citron Crème Anglaise
Chocolate Dipped Fruit and Assorted Truffles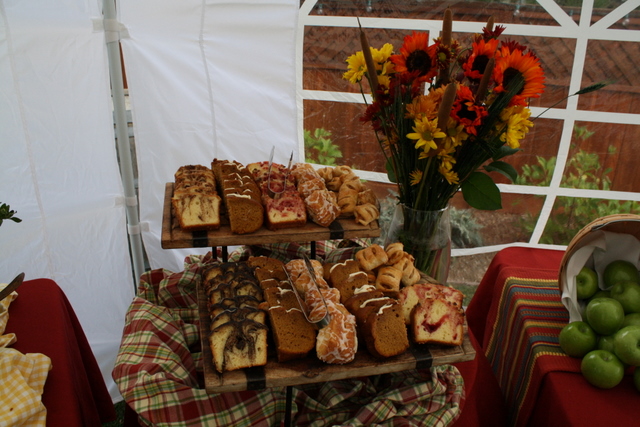 Yum, spiced pumpkin bread, anyone?
Those were delicious but the hands down, crowd favorite was the Apple & Golden Raisin Pan Purdue with Citron Crème Anglaise. Pictures can't do it justice but we can tell you it was in the chafer on the right side so you can imagine…